Jurassic World: Dominion Dominates Fandom Wikis - The Loop
Play Sound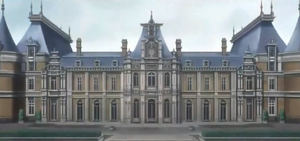 A large mansion which housed many morally ambiguous or evil characters in the canon. It was originally the property of Ciel Phantomhive, it was claimed by Grell Sutcliff after it had been long abandoned.
The occupants of Wayne Mansion were once considered to be enemies of this mansion. Because of the estate's occasional vacancy, its permanent allegiance is questionable.
This manor is located five miles away from Wayne Manor, and ten away from Town. A path through the forested areas around both manors link the two. Under the squatting leadership of Sheogorath, the manor was remodeled with the design of the building bilaterally cut, ending with one half unchanged in decor versus Sheogorath's insanity-themed touch.
The manor was once again abandoned and fell into a state of decay. However recently it appears to have been restored, though who preformed such work is unknown and no one has yet to investigate.
Yet again, the manor had fallen into the hands, or in this case fins, of someone else. Dennis had moved in for a while and completely trashed the place. A car drove through the window, the safe was ripped out of the wall, bookcases were destroyed, paintings were graffitied, and busts broken. It was quite a mess.
After Dennis was captured, the manor was abandoned once more, the mess left as it was, and the rest of it falling back into it's state of disrepair... For now.
The Phantomhive Mansion has once again been reclaimed, this time by the wizard and entrepreneur, Taako, who bought the official deed for the property from the Town. With this new ownership, the mansion has experienced it's most grandiose remodeling yet. The damages caused by Dennis and the disrepair of age both inside and out have been completely fixed, with improvements made along the way, especially to the long-neglected security of the estate.
Taako is currently looking for ways to fill the enormous mansion, with plans to put an open call for both boarders and staff in the near future.
List of Current Occupants
List of Prior Occupants
Borealis Gorgon

Hazama

Eruka Frog

Don Discovery

Elijah

Doctor Hyde